Student Government Assn. invites students to join in
First of all, I just want to say WELCOME BACK! I hope all of you had a fun-filled, yet relaxing summer. I'm Macie Malone, your 2017-2018 SGA President! I have met a lot of you, but still have yet to meet the rest of you! I am thrilled to be serving the student body as your president this year. While SGA has taken a bit of a behind the scenes role in the past, I want to bring it to the spotlight! I want you all to have as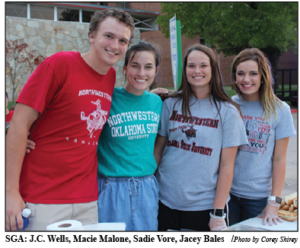 big of a hand in what happens on campus as I do. Besides, everything we do, we do for you! This year we are working on our best year yet, filled with new events and bringing some life into our classics! That being said, we aren't only here for events. We are here for the other student concerns as well. If you have an idea or a concern about anything on campus, or think of some way we can improve life for our students, let us know! We want to make your time at NWOSU as grand as possible.
I want to wish each and every single one of you a wonderful school year, and encourage you to get involved in anything you can. My dad used to wear a shirt while I was growing up that said 'YOGOWYPI,' and it my siblings and I always thought it was so ridiculous. It was only after I grew up that I understood
what it meant. YOU GET OUT WHAT YOU PUT IN. So invest in your classes, invest in your free time, invest in your friends and you will surely be rewarded!
I would love to see all of you at not only our events, but our meetings too. You can help us come up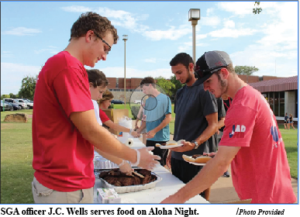 with new ideas and vote on issues at hand. They will be upstairs in the student center every other week in the Senate Chambers.
Again, I can't wait for the school year to unfold. I think it's going to be an incredible year! We will continue working hard to make your time the best it can be! Please contact us with any ideas, concerns, or just to say hi! We are here for YOU!
Macie Malone