16.4% budget cut effects Northwestern
By NICK VILLALOBOS
Editor-in-Chief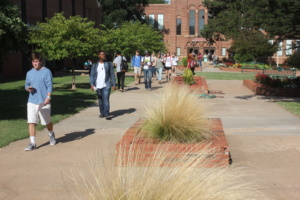 Northwestern Oklahoma State University increased tuition, cut into its projects and operating costs, reduced employee travel expenses and started the year with 14 fewer employees as a result of the 16.4 percent reduction in state appropriations announced earlier this summer.
As a result of a nearly $1.6 reduction for fiscal year 2017, Northwestern vice president for administration, Dr. David Pecha said the university had to increase its
tuition to 9.8 percent to help bridge part of the loss to state revenue.
For in-state students, the 9.8 percent increase raised their tuition from $194 per credit hour last year to $213 per credit hour this year. Likewise, out of state students tuition and fees increased to $441.25 as well.
In addition, Northwestern also decided to not refill 14 vacant employee positions as well. After having these employees either resign or leave their positions for other positions at the university, Pecha said the budget planning committee decided to only refill the positions that were critical.
"We had to do some reallocations, some juggling type scenarios to still provide the core services we need to as an institution," Pecha said.
Pecha added that Northwestern did not have to implement any furloughs, or layoff any employees in the fallout of the state reductions either.
Juan Rivera, a first generation college student, and senior accounting major at Northwestern expressed his concerns with the state government implementing such a large cut to higher education.
"Instead of the state government cutting budgets for higher education, I think they should look at other nonessential areas to cut, especially since education plays such an important role for an individual to have a better future," Rivera said.
Pecha also encouraged students who have concerns about the state reduction, like Rivera, as well as other students in general to be actively engaged in this election cycle. "Talk to the people running for office and stress the importance of higher education," Pecha said.