'Artrageous' Concert Series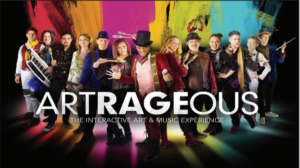 Paint, glow sticks, music, and more is just a start to an outrageous evening, or rather, an Artrageous evening.
Northwestern Oklahoma Concert Series kicks off Sept. 19 2017, with an all new lineup and Artrageous is just the right group to see to get a taste of the concert series. It offers a variety of musical and artistic talents from across the country.
There will be a total of four performances throughout the year, each performance is a new group. Following Artrageous, there will be three other groups performing, all of which will have set dates throughout the school year.
The audience will get to experience live art, music, dance, life sized puppetry, and take part in the show. Now in its 20th season, Tomáseen Foley's "A Celtic Christmas" recreates the joy and innocence of a night before Christmas in a remote farmhouse in the parish of Teampall an Ghleanntáin in the west of Ireland.
One performance created and conceived by Oklahoma-native artist Greg White, "Flipside" of- 'Artrageous' concert series personal spin on that Singing Rage, Miss Patti Page. Flipside sings Page's greatest hits, so the crowd can always stay involved.
Kimberly Weast, Chair of Fine Arts Department, and Co-Director of the Northwestern Oklahoma Series, contributes a lot of her time to make these performances churn.
It does not take much to view these amazing performances. Five dollars for an hour and half of a live performance that would normally cost $30-40 anywhere else. The more student involvement, the bigger and better the next performing artists or groups may be. "Come, show up, and be exposed to something new!" said Weast.
The theater commits a lot of their time to set up these performances from lighting, equipment set-up and day of performance monitoring.
It will take two days to load in all the equipment and gear for the first performance. Theater performances take practice just like sports and constant, consistent effort from every individual. Artrageous is a one of a kind interactive performance that incorporates many different art forms on the same stage