Baseball defeated at home
By RANGERS ATHLETIC DEPARTMENT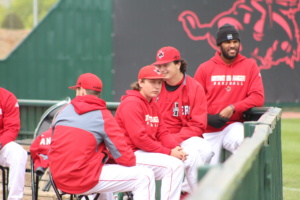 Northwestern Oklahoma State and Oklahoma Baptist took the diamond for a doubleheader on March 31 and came away with two losses, 10-5 and 8-0.
Jacob Long and Jorin Van Amstel led the charge at the plate for the Rangers on the evening as they were 3-for-7 and 2-for-5 respectively in the two games.
Northwestern Oklahoma State and Oklahoma Baptist finished their series on April 1 where OBU would come away with the sweep, following a 10-0 closing game.
Two different batters were allowed hits in the third and final game of the series with the Bison and those were Greg Carrington and Colton Krokroskia who were each 1-for-3 on the afternoon.
Matthew Bickford was the final game starter on Saturday, but was unable to get through two before giving way to Thomas Sander in the second inning.
The first inning was a rough one for the Ranger pitching staff as five runs were posted by the Bison to take an early 5-0 lead.
The top of the second inning was a rough one as well as OBU posted two more runs, making it a seven-run game.
What made it tougher on the hosts was that Oklahoma Baptist starter, Jinny Parra was electric on Saturday, allowing just two hits and only four base runners altogether.
Oklahoma Baptist would tack on another run in the fourth, gaining an 8-0 advantage over the hosts.
Northwestern added their first hit to the board in the bottom of four however as Carrington ripped a single up the middle of the infield. He would not come around however.
The final two runs of the ballgame came in the fifth and sixth innings as the first would score on a SAC fly to right field and the second and final run of the game on a roped homer to left field.