Bella Donna performing at last concert series of year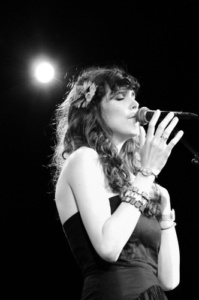 Northwest Oklahoma Concert Series finishes out the performing year with Bella Donna
Northwest Oklahoma Concert Series (NWOCS), an organization that seeks to bring cultural performances and entertainment to northwest Oklahoma, will end its 2016-17 season with Bella Donna on Tuesday, April 25, at 7 p.m. at Herod Hall Auditorium on Northwestern Oklahoma State University's Alva campus.
Bella Donna is influenced by the Ozarks, the creak of tree limbs in the winter, and the summer sounds of cicadas. The traditional music that flows through the hills and hollows of the area the group was raised in helped them form their sound called "Ozark Jazz."
"As one may expect from the namesake, Bella Donna comes to your ears with a mysteriously intriguing and seductive sound. Rooted in jazz, the ensemble plays with a beauty and darkness that melodically winds itself around your ear drums and sensually sways you into submission," stated one review from feedbands.com.
Bella Donna has been busy playing shows through the Midwest and parts of the east and west coast over the past six years. The band is composed of Liz Carney on vocals and guitar; Matt Guinn as lead guitarist; Mike Williamson on bass and cornet; B.J. Lowrance on drums; and Jeremy Chapman on the mandolin.
For those who did not purchase season tickets can get individual tickets from Holder Drug or Graceful Arts Center at $15 for general admission, $5 for students with ID and $10 for senior citizens. Individual tickets may be purchased online at https://nwocs.ticketbud.com a processing fee is included in the online purchase.
The reserved seating section at each concert will be held until five minutes prior to the performance.
The line-up for NWOCS 2017-18 will be announced at this last performance as well as changes to the upcoming year for contributor packages.
Stay up-to-date with NWOCS by liking the Facebook page at www.facebook.com/NorthwestOkCS/ or on Twitter at @NorthwestOkCS. Keep an eye out for the hashtag #NWOCS.
The Northwest Oklahoma Concert Series is supported by Northwestern, the Oklahoma Arts Council, the National Endowment for the Arts and the Charles Morton Share Trust.
For more information on Bella Donna and to hear a preview of their music visit www.belladonnaband.com.
For more information on NWOCS or how to become a contributor to the series, contact Kimberly Weast, director of NWOCS, professor of theatre arts and chair of the Department of Fine Arts, at kkweast@nwosu.edu or (580) 327-8462.