Computer science students compete in gaming expo
By BALEY GARZA, Student Reporter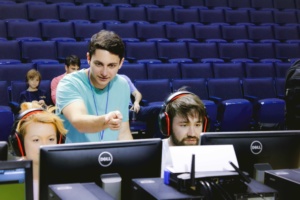 The Northwestern computer science department competed in the Heartland Gaming Expo a couple of weeks ago, and came out successful, as a total of 11 students and four groups placed second and third place overall in their respected categories.
The Heartland Gaming Expo was held at the University of Tulsa on April 8- 9. There were several colleges and some high schools that competed in this event as well. The competitions consisted of students design, building, code, and debugging games. NWOSU science department had success in those events.
Northwestern senior, Bruno Miguel, placed second in the college-level game showcase. Miguel also received the people's choice award at the Heartland Gaming Expo. Ashley Carter and Richard Fischer also placed in the college-level game showcase. Carter and Fischer both placed third in the event.
The NWOSU Code Jam Team had some success as well. The team received the awards of most ambitious game reward and the best computer graphics reward.
The team consisted of NWOSU students Matt Day, Jackson Gardner, Austin Mount and Bryce Larkey.
"I am proud of all of my students that competed and I am proud of the results," Evan Vaverka said. Bruno Miguel was the most successful out of the students that competed. He won several awards at the event. Miguel also won several awards last year at the same event. The NWOSU Science
Department came out successful at the Heartland Gaming Expo.