Davis inspires Alva with Art
By CHRISTINA MUNSTER, Student Writer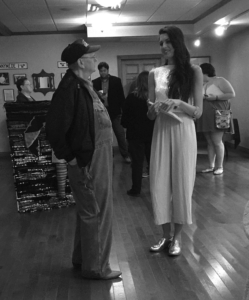 Imagination lit up both Runnymede and the Graceful Arts Center this past Friday from one young artist. October Artist in Residence Britynn Davis, exhibited her artwork she had worked on over the month during her time at Northwestern.
Having showcased Davis earlier in the month, her artwork is inspired by the little things in life. Emphasizing on people and animal behavior and positions, textiles of different cultures, plant connections, how attentions are captured, social pressures, and lights and color.
At this year's first Friday Art Walk, Davis impressed many, with her interesting and far from the usual art with her brilliant imagination. Abbie Tillman, a senior majoring in Biology at Northwestern said, "It's cool, all this art is not something I'm used to, especially something I would've thought of."
Repetitive things as people inspired one of her artworks, a cattle guard covered in gold sheets. "The cows refuse to walk over the cattle guard barrier every day, so I just started getting an idea. It took 8 hours to do the cattle guard." Davis said.  After doing the cattle guard piece, other pieces of artwork in her Art walk were created.
Last Friday Art walk was hit in the community with Davis artwork showcased in both Runnymede and the Graceful Arts Center in town. The next Art Walk will be December 2, showcasing November Artist in Residence, Anna Valdez's Work.
Davis has enjoyed her time at Northwestern and will forever be grateful for the opportunity. "I've gotten to be very productive here and the students have been awesome." said Davis.