Follow me on Wales adventure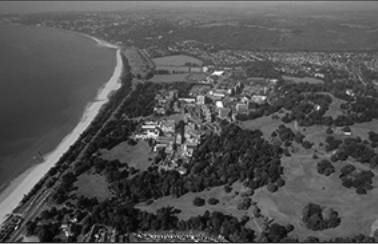 What do you do when you find yourself facing an adventure? Are you excited? Do you ask questions? Do you make lists? Are you nervous? Do you decide to wing it, even just a little bit? Because, you tell yourself, maybe adventures should be adventures—exhilarating and uncertain.
Facing my own adventure, I'm doing all that and more. More being a summer of researching, gathering, and packing. On September 7th, I'll be embarking on my largest adventure thus far: moving abroad for four months. In the spring, I was chosen to represent NWOSU as a Brad Henry Scholar studying at Swansea University in Wales, UK this fall. I will be there from September to late December.
The Brad Henry Scholarship is a life-changing opportunity offered to Oklahoma residents in their junior or senior years at university. The scholarship involves all Swansea University tuition, fees, housing, as well as the airfare to the UK, paid for by the Oklahoma State Regents for Higher Education. Each Oklahoma public university on a rotating list may nominate one student to send abroad for one semester.
Yet few students from NWOSU apply. Even after emails are sent each spring, interviews are written up, and videos are made for the university website. Applying is a simple process: an application, a transcript, a resume, an essay of why you should go, and two letters of recommendation. A bit time consuming to gather it all, a bit nerve-wracking to write that essay and ask for letters of recommendation perhaps, but it's a small price for studying abroad free.
In truth, I almost didn't take the chance either. I become friends with 2015-2016 Brad Henry recipient Chandler Steckbeck when she returned from her semester abroad. I heard of her adventures overseas but, more than that, I heard how she benefited from her time abroad. I thought Swansea University was a fantastic opportunity—but it wasn't for me. I was too busy, I was too anxious, I was too focused on gaining my degrees; I didn't stand a chance. At least I thought so.
Last fall, I interviewed Brad Henry recipient Sydnie Lowe as she prepared to leave for her Spring 2017 semester in Wales. We talked about what Sydnie planned to do with her time in Europe and it was an interesting perspective. With Chandler, I had seen the outcome of going, but with Sydnie, I saw the possibilities of doing so. I saw the nervousness and excitement. Chandler solidified the idea when, for my article, she advised everyone to apply and that the worst that could happen was a simple no.
Applying is about taking the chance, and I was lying to myself when I said I didn't want to. It was too good of an opportunity not to try. All the things I can do, all the experiences I can have. The perfect time to live abroad is during college, the saying goes. I'm inclined to agree.
In the end, I was fortunate to have been selected along with four other students in the state. Three of us will attend Swansea University this fall; the other two in the Spring. I will be able to take a light course load so I can explore Wales and beyond, especially during my favorite time of the year. I'll experience Halloween, expatriate Thanksgiving, and preparations for Christmas from another perspective. It's a fantastic opportunity and a small price to push my graduation date back a semester and deal with the anxiety of being alone in a foreign country.
That's why I will be writing a series of articles from Wales. Instead of getting interviews of the before and after, you'll get a sense of what being a Brad Henry scholar is during the process. You'll learn as I learn. Experience as I experience. Along the way, maybe I'll convince another student to apply.