Gahr to volunteer in Costa Rica
One Northwestern Oklahoma State University student will get to spend her summer volunteering for a conservation project in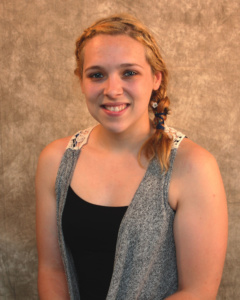 Costa Rica to aid Green Sea turtles.
Willow Gahr, Carmen senior and biology major, will leave at the end of July for a 10-day stay in Tortuego, Costa Rica, to learn about the sea turtles' nesting habits and help the reserve.
Within a 10-mile radius on the beaches of Costa Rica, Gahr will work day and night to help check for nesting sites, document new nesting sites, help make sure the turtles get to reach the ocean, collect data on sea turtles and more.
"This opportunity will help me with my degree for doing research in the classroom, doing independent studies and working with my professors," Gahr said.
Gahr is open to the whole experience and believes it will be more than just saving sea turtles.
"Yes, I am going out to help sea turtles, and it's a wonderful conservation project," Gahr said. "But, I feel like the benefits I am taking home from this are worth more to me in the long run. I will be able to work outside my comfort zone along with being able to grow on my leadership and communication skills. I will need those later in life for graduate school interviews and things like that that it will definitely come in handy. It will be experience with new-found skills that will last a lifetime."
She also explained how her education at Northwestern has helped her prepare for this experience.
"I feel like my education at Northwestern has helped prepare me greatly," Gahr said. "We have done a lot of hands-on experience with animals in some of my classes. I have an idea already of how the animals behave and how they live life in general…I am as prepared as I can be."
Gahr said the language gap is a concern but referenced that she had taken Spanish at Northwestern, which will help with this experience.
In an effort to defray the financial costs of traveling out of the country, Gahr has started a Crowdrise page to help with hotel stay, amenities and daily expenses while she is away. Those interested in helping Gahr reach her Crowdrise goal can find the information here: www.crowdrise.com/saving-the-sea-turtles
For more information on Northwestern's Natural Science Department contact Dr. Steven Maier department chair and associate professor of physics at (580) 327-8562 or sjmaier@nwosu.edu.