By RANGERS ATHLETIC DEPARTMENT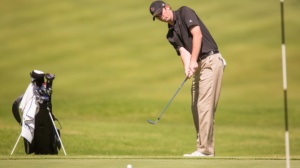 The Northwestern Oklahoma State men's and women's golf teams finished up the second of three rounds on Monday afternoon in the 2017 Great American Conference Championships held at Hot Springs Country Club in Hot Springs, Ark. Both teams improved on their first round scoring in round one with the women improving five strokes to finish with a team total of 333 and the men improving two strokes to post a 319 team total.
The women were paced by sophomore Brittani Casement's round of 75, which ties teammate Kelsi Wilson for the lowest individual round in the NCAA Division II era for the women's golf program. Casement finds herself in solo 10th place with a two-day total of 157, setting her up for a school-record type finish if she keeps pace tomorrow with her first two rounds.
The women dropped back a spot on the leaderboard and now sit in seventh place with a two-day total of 671, just one shot behind Southern Arkansas.
Head coach Aaron Ford's team will enter the third round just five strokes behind Arkansas-Monticello in fifth place. Arkansas Tech will hold a one-shot lead over Henderson State entering tomorrow's final round at a 608 team total. Southwestern Oklahoma State's Elin Wahlin posted the lowest individual round of the day at 70 to begin the final round with the lead at 144.
Kelsi Wilson shot an 86 during the second round to enter the final round in a tie for 25th place at 167. Freshman Hallie Ward continued to gain experience on the difficult Park Course at Hot Springs Country Club and improved on her first round score with an 86 to come in with a two-day total of 175. Ward finds herself in 38th place while junior Olivia Brock shot a second-round 92 to sit three spots back of Ward with a 178 total.
Sophomore Nikkole Donk had the biggest improvement for coach Ford's squad, bettering her first round with an 86 to sit in 42nd place at 181.
Coach Ford understands the position his ladies now sit in within striking distance of multiple other conference teams for the first time in the program's history in the GAC. A solid round from his squad tomorrow morning could propel them into the top five, a position that would be remarkable considering where his team began at the beginning of the transition into NCAA Division II from NAIA.
"There was definitely some improvement from the ladies out there today thanks in large part to a huge round of 75 from Brittani," coach Ford said, "The girls finished better than yesterday, but too many big numbers combined with a slow start held a few of the girls back from building any momentum. Overall it was a successful day and being only six strokes back from fourth place will set up an exciting round tomorrow. I expect the girls to come out with a lot of energy and post good scores."
The men's team also improved on their first round performance, but still remain in ninth place with a two-day total of 640. Freshman Parker Rehorn fired a solid round of 75 to improve five strokes on his first round, placing him in a tie for 37thplace at 155.
The team will have to have the mindset of posting low numbers tomorrow as they will be 27 strokes behind the nearest team in Arkansas-Monticello at 613. Henderson State shot to the top of the leaderboard following an unbelievable day on the course that included four of their players shooting par or better. Henderson will enter the final day with an eight-shot lead over Arkansas Tech at 569. Reddies golfer Nick Shapiro carded a 65 today to move into solo first place by one shot over Arkansas Tech's Austin Smith at 139.
Rehorn was followed up by fellow freshman Cody Hixon with a round of 80 to sit in 43rd place at 160 (80-80). Multiple other Ranger golfers find themselves around Hixon's total including Cole Ward, Drew Sims and Collin Stork.
"Another down day on our side of the course," coach Ward said, "Parker really stepped up and overcame some adversity to hold a solid round together. It's not a good feeling for anyone to end a season like this, so hopefully we can get some momentum going during the final round tomorrow."