Guest speaker visits campus
By  JAKE GOODMAN
Student Reporter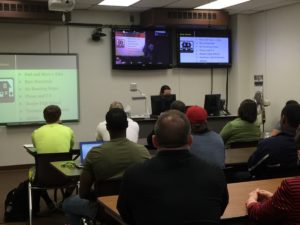 On Monday, Northwestern Oklahoma State University celebrated Black History Month with guest speaker Donnie Nero, Ph.D.
Nero gave his presentation on the Enid campus, but it was broadcast via ITV to Woodward, Ponca City and Alva. The presentation was titled "Walk a Mile in My Shoes: Then You Will Understand Why I Walk the Way I Do."
Nero started his speech showing a slideshow that displayed African Americans protesting and showing what life was like when he was growing up.
Nero then talked about his childhood and some major events that helped shape who he is today.
Nero grew up in Spencer, Oklahoma. His father was a custodian at the air force base, while his mother would spend all day cleaning houses. Nero grew up with four other siblings and had to share the same bed with his two brothers.
Nero did not grow up in an environment like most kids do today. Nero had to wait on friends up the street to donate his family clothes.
His family also didn't have running water. Instead, Donnie's family would have to go outside to get water and boil it on the stove just so they could have clean bath water.
Nero only had a party phone growing up and just one TV which was in his parents' bedroom.
Later on, he stated that he went to an all-black high school called Dunjee High School. This school received all of their sports gear from Choctaw High School. Nero then talked about how people claimed his school to have a good athletics program which led him to think he was a good athlete. However, this changed when he went to college after he graduated high school in 1967.
Next, Nero talked about his life in college. Nero was told to go to Langston University like all of the other African Americans but rejected. Instead, he attended East Central University in Ada, Oklahoma.
Nero was drafted to go to Vietnam and was told he wouldn't have to go if he got a 2.0 GPA. He failed to reach that 2.0 GPA, but managed to talk his teacher into giving him another chance and exceeded a 2.0 GPA.
Nero tried out for football and basketball only to realize that college sports are much different than in high school. Nero then had to find a way to pay for school and became a dishwasher for the kitchen and later, a pool hall attendant. Nero ended up meeting his wife, Shirley, in college. They will celebrate 47 years of marriage in October.
Nero then talked about his life after college, and the difficulties he had in the career field he chose.
After graduating from East Central University in 1971, Nero and his wife Shirley went to Sapulpa. He interview for a teaching job, but instead was sent to training in Fort Dix, New Jersey since he had been drafted and was done with college.
Nero returned to Sapulpa later that year and started his teaching career. The school had allowed both colors to attend which led to fights that he had to deal with. He was also Sapulpa's first African American Baseball Coach and in 1985 became the first African American Dean of Services at Tulsa Community College.
Nero taught at Sapulpa until 2000. He then applied for jobs at many other colleges in Oklahoma and was rejected by all of them.
However, he didn't give up. "I had to bring my A game if I was going to get a position in higher education," said Nero. His dedication landed him a position as the President of Connors State. He served from 2000 to 2011.
Now, Nero and his wife opened up the Oklahoma African American Educators Hall of Fame in Clearview, Okla., which is where they reside today. The museum shows many teachers with stories of how rough being an African American teacher was, and the obstacles they've had to go through to get where they are now.