Lets go, lets fight, lets win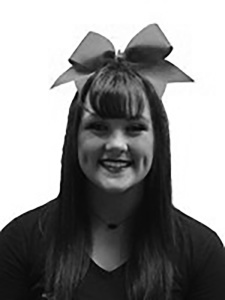 By MONTANA MCCULOUGH, Student Reporter
Being a cheerleader has been a part of Baylie Wilson's life ever since she was three years old and her mom was coaching.
Now this Northwestern cheerleader gets to do what she loves while getting a degree she is passionate about.
Wilson is the middle child of three children. She has an older and younger brother. Wilson grew up in Newkirk, Oklahoma and attended Newkirk Public Schools.
While she was at Newkirk High School, Wilson was on the cheer, basketball, track and soccer teams. She received several cheer honors in high school, was named a conference basketball player and was an All-District defender in soccer her senior year.
After graduating high school, Wilson attended Northern Oklahoma College and received her Associate's degree in Psychology. During her time at NOC, Wilson was involved with the cheer squad.
One of her favorite memories was winning a national championship in cheerleading while she was at NOC. Once she got her degree from NOC, Wilson decided to come to Northwestern to finish her degree.
While she has been Northwestern, Wilson has been a part of the cheer squad and working toward her degree. She is also involved in psychology club and is the vice president.
When she's not working at either one of those, Wilson likes to read, spend time with friends, binge watch Netflix and hang out with her boyfriend. She is also using her cheerleading skills to help her mom with her high school cheer team.
Wilson hopes to one day use her degree in Psychology to help people.