Men basketball makes a comeback at Edmond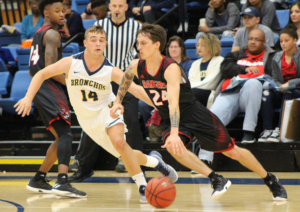 Northwestern Oklahoma State University men's basketball team had a successful start to their season. They fell short against the University of Central Oklahoma with a 77-68 loss. Against Northeastern Oklahoma State University the Rangers were successful with a 91-80 win.
Against Central Oklahoma, senior, Adrian Motley won the opening tip-off at Hamilton Fieldhouse on Friday evening, opening the Rangers 2016-2017 regular season against the University of Central Oklahoma. As part of the MIAA/GAC Challenge, the teams squared off in the second part of a women's-men's double header.
Northwestern got off to a slow start, allowing a seven point run by the Bronchos before finding their groove and answering back with seven straight points of their own. A strong presence on the defensive front was visible early, as transfer Trey Johnson had two huge blocks at the rim. The opening frame saw plenty of lead changes, as the Rangers and the Bronchos went back and forth before UCO rattled off 14-2 run to close the half with a 35-29 lead.
The Bronchos would extend their lead to twelve as Motley found himself in foul trouble midway through the 2nd. Northwestern refused to lay down, fighting back to within two points with just over a minute remaining. Following a costly turnover with less than a minute left, Northwestern was forced to foul. UCO was able to hit their free throws when it mattered late, holding off the Rangers late push for a 77-68 final.
Sadly, The Rangers were ultimately unable to regain control of lead after the Broncho's 14-2 run late in the first half.
But Rangers made a comeback in the game on Sunday against Northeastern.
The Rangers got off to a slow start Sunday afternoon, trading missed opportunities with the Riverhawks early on. Northeastern State eventually jumped out to a 13-8 lead at the first media timeout.
A notable milestone was reached today when with 10:03 to play in the first half, senior Adrian Motley dropped his 1,000thcareer point on a layup. Northwestern then found a way to break open the scoring, going on an impressive 26-2 run over a span of eight minutes while only shooting 1 for 9 from three-point territory in the half. Armed with an explosive attack, the Rangers would take a 14 point lead into halftime.
The second half was a different story for the Rangers, as they allowed the Riverhawks a chance to climb back into the ballgame. Both teams traded punches in a game that saw six lead changes in regulation. Northwestern managed an eight-point comeback in the final minute and a half, forcing a 5 minute overtime.
The Rangers managed a strong offensive showing in the extra frame, as Northwestern took control with an 83-71 lead. Cody Halvorson netted consecutive three pointers and forced a steal, while Brandon Green added five points and two steals in OT for a 91-80 final.
On Thursday Northwestern will get another chance to win against Harding University.