Northwestern News wins awards
By NICK VILLALOBOS, Editor-in-Chief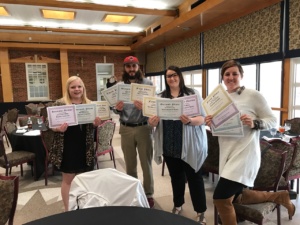 The Northwestern News won 18 awards combined between the Oklahoma Collegiate Media Association and Oklahoma Press Association's Better Newspaper contests, which ultimately completed the goal of the news staff in 2016.
After settling into the new editor in chief position I acquired the spring of 2016 and gaining further newspaper experience at my summer internship at the Bartlesville Examiner-Enterprise, I came back to campus in the fall with a new goal in mind for the Northwestern News team.
The goal that I came in with was to get the Northwestern News back to the award-winning quality in which it once was.
For a few years now, the newspaper here on campus has not been quite up-to-par in terms of all-around competition worthy material, including story, layout and design.
Yes, the Northwestern News has still managed to win awards in these categories through some awesome efforts by a number of the former staff members, but not as many as they use to.
Last fall, however, we were able to do just that and more thanks to some awesome efforts by the entire 2016 staff.
When the award ceremony for the OCMA was taking place on Mar. 29 in Stillwater, we were expecting only to bring back the originally announced six awards. 13 awards later, however, we were all pretty overwhelmed with the total number of awards we left Stillwater with.
Also that day, the Northwestern News got word from the OPA Better Newspaper contest that we would be receiving five more awards at the annual OPA banquet on June 10 in downtown Oklahoma City.
It may also be worth noting that in the OCMA competition there were a couple of categories still needing judged, so as of now, the number of awards that the Northwestern News staff won for its efforts in 2016 is18.
To all of those I have been blessed enough to work with over the past year, I just want to say thank you. Thank you for all the late nights and stressful weeks you endured with me over the past year.
It is because of everything you all did week in and week out at the Northwestern News that the goal of getting the newspaper back to an award-winning quality was able to be achieved.
Side box:
Awards Northwestern News Received in 2016
Oklahoma Collegiate Media Association
First Place: Feature photography, Charles Boldes
General News Writing, Rachel Emerson
News Photography, Nick Villalobos
Front Page Design, Northwestern News
Second Place: Column Writing, Corey Shirey
News Photography, Rachel Emerson
Online Newspaper, Northwestern News
Overall Newspaper, Northwestern News
Third Place: Feature Photography, Charles Boldes
Feature Writing, Natalie Sacket
Honorable Mentions: Sports Reporting, Ryan Shumaker
General News Writing, Rachel Emerson
Editorial Writing, Northwestern News
Oklahoma Press Association
2nd, 3rd and 4th in the following:
>Personal Columns
>News Writing
>Feature Writing
>Sports Coverage
>Photography