Northwestern students compete for pageant title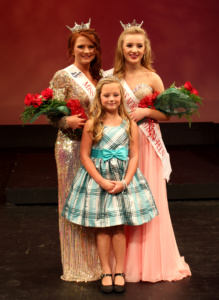 Miss Northwestern Oklahoma State University Mary Shklar and Miss Northwestern's Outstanding Teen Ducky Wyatt will pass on their crowns Sunday, Oct. 30, to the two women who will be chosen to represent the university at the Miss Oklahoma Pageant in the coming year.
The pageants will take place in Herod Hall Auditorium at 4 p.m. Doors open at 3:30 p.m. Tickets are available at Holder Drug or from contestants for $8 in advance or $10 at the door. Chesnei Thomas, pageant director, also may be contacted at cdthomas@nwosu.edu or Catherine Engelken, title, at (580) 327-8105 or cgkelly@nwosu.edu to purchase tickets. Northwestern students get in free with a student ID.
Competing for the Miss Northwestern title are:
Katherine Blair, freshman vocal music major from Waynoka; Kandi Hughart, senior psychology major from El Reno; Shelbi Morland, freshman mathematics major from Laverne; and Meghan Webb, freshman pre-medical major from Alva.
Nine are participating in Miss Northwestern's Outstanding Teen Pageant. They are:
Liberty Bird from Alva; Tasia England from Woodward; Kaelin Clay from Idabel; Landry Gaddy from Alva; Makenna Marchbanks from Blanchard; Emily Sanders from Kingfisher; Abigail Trujilo from Burlington; Alyssa Payne from Norman; and Jody Webb from Lindsay.