President welcomes Rangers
Dear Northwestern Students:
It is my pleasure to welcome you to Northwestern Oklahoma State University for the beginning of the fall semester. On behalf of the faculty and staff, allow me to express appreciation for your decision to attend Northwestern. We believe you have made a great choice.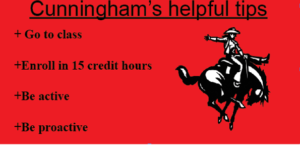 If you are new to Northwestern, let me extend a special welcome to you. I hope you have made a successful transition to one of our campuses. Our goal is to serve you, so please reach out to the appropriate office if you need assistance of any kind. Never be afraid to ask questions or seek help.
Northwestern provides many opportunities for you to have a great college experience; however, it will take some work on your part. Let me offer just a few suggestions:
Go to class. You are on your own now and no one can force you to attend classes, but your odds of earning the grade you want increase significantly with regular class attendance.
Enroll in 15 credit hours per semester. It takes 120 hours to earn most degrees at Northwestern. If you want to graduate in four years, you need to take 15 hours in the fall and spring semesters, or additional hours in the summer. Every extra semester costs you more in living expenses and lost wages.
Be active in campus life. Your student life experience will be richer if you choose to become involved in clubs and organizations and Greek life, attend athletic and fine arts performances, and generally be involved in the many activities offered on campus and in our campus communities.
And finally, don't let a little problem become a big problem. Any challenge you may encounter in the classroom, in the dorms, or with meeting the financial obligations of attending Northwestern, can usually be addressed if you will seek help immediately. Our goal is to help provide you an opportunity to earn a Northwestern degree.
Take pride in being a Ranger and wear our Red and Black proudly. You are now part of a tradition that is 120 years old. It is my hope that you become the next graduate to add to our abundant legacy.
Ride, Rangers, Ride!
Janet Cunningham, Ed.D.
President