Rangers dominate Heartland
By CHARLES BOLDES
Student Writer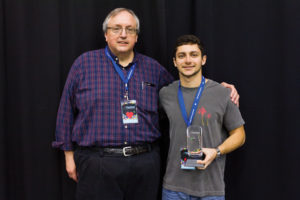 The Northwestern Computer Science Club, along with other colleges, high schools, and middle school across the state of Oklahoma spent last weekend developing video games & competing with other gamers at the Heartland Gaming Expo in Tulsa.
The Heartland Gaming Expo kicked off in 2013; the first two expos were held at the University of Tulsa, and both drew large groups. The expo this year was held back at the University of Tulsa at Reynolds Center. Dr. Mailer the founder of the Heartland Gaming Expo, hopes for further growth in the next few years, and is pleased with the turn out this year.
Experts were on-hand to help those wanting to learn how to create games, as The Heartland Gaming Expo promotes creativity and growth in the ever growing gaming industry. This year's attractions at the Heartland Gaming Expo featured demonstrations, guest speakers, vendor exhibits, game trucks, gaming tournaments, food trucks, live action role play, laser tag, and a Microsoft Hall.
Many of the Gaming Tournaments this year were sponsored by Tokyo in Tulsa, which is a three day annual anime-convention held at the Cox Business Center in Tulsa. They held a numerous gaming tournaments including a "Super Smash Brothers Melee", "Super Smash Brothers Wii:U", "Street Fighter V", "Mortal Kombat XL", "Call of Duty Black Ops 3", and "Halo 5."
Day one of the Heartland Expo started with the 24-hour code jam, where teams from colleges, high schools, and even independent developers were asked to build a game based on a theme chosen by the organizers of the Expo that would be given to them once the event started. This year's theme was "Ice." Matt Day a junior at NWOSU and a second time attendant at the Heartland Expo said, "The Code Jam was an interesting experience this year, being able to work with a bigger team allowed us to do more for developing a video game than we ever have before. Even though it was still stressful I plan on going back with our team and representing the NWOSU Computer Science Club again." The Code Jam team brought home an award for Outstanding Concept this year.
Garett Logan a senior at NWOSU and returning attendant said, "Code Jam this year went a lot smoother this year, unlike last year where it was very stressful. I've learned a lot from last year, and over this past year. It was really fun to do especially with the bigger team." Mahmoud Taleb a junior at NWOSU attended for the first time also this year, and partook in the Code Jam this year, "It was a great experience and I'm grateful for the opportunity. There was some cool technology like Virtual Reality, being used by some of the teams. It was a long stressful 24 hours, and we were pushing till the last minutes. I would do it again next year, II hope to be more prepared next year."
When asking other members of the club if they would want to do both the 24-hour code jam and the game showcase again, Austin Mount a sophomore at Northwestern said, "I'd probably stick with just the game showcase. I'd do the Code Jam also, but as long as we have a big enough team. The dedication from doing both is stressful, but can be manageable with a good team like we had this year. Hopefully by next year we will have a bigger team. I've already been talking with a friend, and we hope to have a game ready by next year."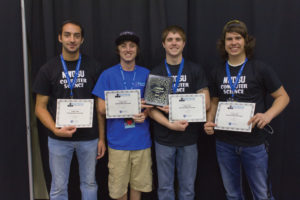 Richard Fischer a sophomore at NWOSU and first time attendant at the Heartland Expo said, "It was really amazing to see the time, effort, and imagination that were put into the project here. It really inspired me to up my game next year."
This year's special guests included Greg Rahn, an Audio director who is a veteran in the video game industry with more than 200 soundtracks, he most recently lead an audio team in San Francisco best known for "Star Wars: Uprising," "Marvel: Contest Of Champions," "The Hobbit: Legends Of Middle Earth" Also appearing were Todd DeMelle Art Director for the award winning MMORPG "The Lord of the Rings Online," Rachael Messer, a professional voice actress, who has made a living voice acting. She has voiced in popular games like, "Warframe", "Heroes of Newerth' and many other games. Some of the most popular guest speakers that most students wanted to see was Jason Gregory the lead programmer for Naughty Dog, who helped developed engine and gameplay software for popular games like "Uncharted 4: A Thief's End", "The Last of Us," and Chance Glasco Graphic Artist for Infinity Ward, widely known for the Call of Duty Franchise and a Tulsa native.
This year the Heartland Gaming also hosted their first Collegiate StarLeague sanctioned Invitational League of Legends tournament. The tournament was opened to college teams only this year, with a $1,000 prize pool. Yet they were unable to find eight teams so the tournament was opened to the public, so the last two spots could be filled out. The tournament kicked off with a single elimination tournament, where teams would compete in a best-of-three set. The final two teams faced off each other in a best-of-five set for the title of Champion for this year's Heartland Invitational. NWOSU brought in their own League of Legends team this year, but lost during the best-of-three set. Austin Anderson, a junior at NWOSU said, "It was an interesting experience this was my first time at the Heartland Gaming Expo, and my first tournament with my new team. I haven't been playing League of Legends for long, and even though we lost, we did learn a lot from that loss. I hope that for next year, NWOSU will have a stronger team."
Scott Bartley a senior at NWOSU and returning attendant at the Expo, "It was a whole new experience to go from a supporting role last year to a solo entry this year. There was so much more on my mind about presenting my music scores compared to last year, where I made music that I was told to make." Bartley also brought back second place in the Gallery showcase where he designed his own music composition.
Computer games can represent one of the best displays of technological expertise and artistic expression. Evan Vaverka, Instructor of computer science, said, "The computer science department is proud of everyone that competed. Many of the students will be returning next year and are already excited for the event."
This year for the college category in the Game Design showcase, Bruno Miguel a junior at NWOSU won first place as a solo entry this year for his game Garuna Island, "The greatest and best feeling of winning is achieved when you hear your friends cheering when your name is being announced," Miguel said.
"This year for the Heartland Expo, we wanted to try something new, and the committee decided on a raffle drawing. The prizes for this year included a gaming laptop, 1TB Xbox One Bundle, 500 GB Xbox bundle, and a PC Minecraft Bundle. It was the first time we tried pulling this off, and it went off without a hitch," Mailler said.
For anyone that wishes to start out in game developing or in any of their passions doesn't matter young or old. Daniel Mooney founder of Moomat returned again this year as a judge, and showed off a new program he started off in a few elementary schools. Where he meets with a few young minds that are interested in creating games where they meet once a week to learn about simple coding and game design. He hopes to help jump start kids into skills that many other students wouldn't have thought of learning when they were younger.
Mooney said, "Even though Moomat started off as a small company, we are slowing growing and we've never given up. Do what you what you love and just do it. Don't let someone advice bring you down, take it with a grain of salt, always take their advice, and learn from it, but never give up on what you are doing. Think of it more as a push so you can do better."
"Everyone had a fun time and did well at the competition. It was a great learning experience for the new attendants, and the students already seem eager to do it all again," Vaverka said.
Mark Bagley Instructor of Computer Science said, "This is three years in a row that NWOSU Computer Science students have placed or won in their categories at the Expo. It is very rewarding to see their commitment to excellence paying off in such dramatic ways. I am very proud of the twelve students who composed this year's six team entries."