Scrimmage prepares Rangers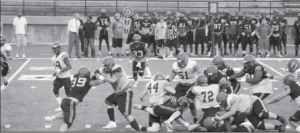 The Northwestern Oklahoma State University football team gave students and fans a preview of all that is to come this football season in a Red and Black scrimmage Monday night.
The NWOSU football team was divided into Red jerseys and Black jerseys, and the players competed against each other in order to prepare them for their upcoming season.
Matthew Walter, NWOSU's head football coach, said the results of the scrimmage made him excited for this season. Walter said his team did well both offensively and defensively.
"Defensively, our third downs were much better," Walter said. "Last year we struggled converting on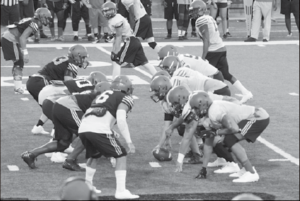 third down defensively."
Walter said his offense did well in completing third down conversions, and getting the first down. He said the offense also did well scoring touchdowns.
Walter said his team focuses on three tactics: execution, preparation, and effort. These are the tactics he likes to see in his players. He said his team put in great effort throughout the scrimmage.
Walter said his team needs to work on converting third downs offensively, and defensively doing better on the goal line. He said his defensive team must work hard to match the offenses of their opponents. He said his offense must work to execute every play.
To prepare for their first game, Walter has his team in meetings and to watch film. His team is doing lighter work on their feet to help physically prepare their bodies. Mentally, Walter said his team is watching film and learning tactics of the upcoming opponents.
Walter said he is most excited for the first game. Walter said in football, only eleven games are guaranteed, unless a team makes the playoffs. He said his team works all year for only eleven games, and that is why he is most excited for the first game.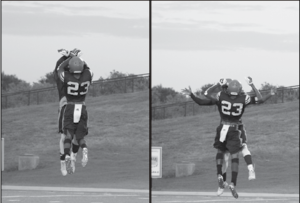 "You always look forward to the first game," Walter said. "It doesn't matter who you're playing."
Walter adds he also always looks forward to playing rival team Southwestern Oklahoma State University.
Overall, Walter wants his team to improve both on the field and in the classroom.
"We hope the students will come out to support us and watch us play," Walter said.
Jacob Peyton is a redshirt sophomore from Perkins, Oklahoma. He serves as one of NWOSU's football captains, and he is a running back. He is majoring in Health and Sports Science.
Peyton competed in the scrimmage Monday night, and he said he saw many good things from both the offense and the defense. He said both sides were competing well.
Individually, Peyton has a couple goals he would like to achieve this season. He wants to rush for 1,000 plus yards and score 10 touchdowns.
Peyton said his team needs to work on getting to know each other better. Overall, he expects his team to win.
"We are completely different from last year so we should be able to surprise some people at this university," Peyton said.
The NWOSU football team will kick their season off with their first match up against Great American Conference opponent Ouachita Baptist on Thursday in Arkansas.