Soccer defeated in opening weekend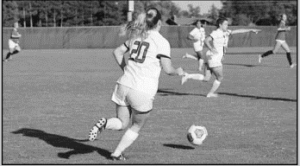 The Northwestern Oklahoma State University Lady Ranger soccer team kicked off their season on the road in matches against Rogers State University and Northeastern Oklahoma State University on Thursday and Saturday.
The Lady Rangers fell short of a win against Rogers State with a score of 0-3 on Thursday, and were unable to win on Saturday against Northeastern with a tough loss of 0-7.
In the match against RSU, the Lady Rangers struggled offensively. Coming out against the nationally ranked RSU team, the Lady Rangers took to the field in a new formation in hopes to close down RSU's offense.
The Lady Ranger's defense was strong throughout the game, keeping the score 0-1 until the 70th minute of the game. Although RSU has 19 total shots on goal, the Lady Rangers were able to clear most of them out with help of junior goal keeper Kylee Loustaunau. Loustaunau had 5 saves for the Lady Rangers.
The Lady Rangers had a few good looks on offense. Sophomore Hollie Pankake took a close corner kick, and junior Karla Lopez and senior Kim Bell both had shots against RSU, but could not convert those shots into goals.
On Saturday, the Lady Rangers looked to redeem themselves against Northeastern State University. However, the Lady Rangers had trouble on offense again, and were unable to match the tough offense of NSU. The Lady Rangers took a hard loss of 0-7.
NSU fired a total of 26 shots against the Lady Rangers, 19 of them shots on goal. Sophomore Hollie Pankake came close to scoring for the Lady Rangers in the first half. Pankake had two shots on goal, forcing the NSU keeper to make a save.
The Lady Rangers will look to gain results at home on Thursday and Saturday against Washburn University and Southwest Baptist University.