Soccer has a low start to the season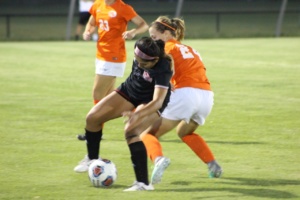 By RANGER ATHLETIC DEPARTMENT
The Northwestern Oklahoma State soccer team faced two quality conference opponents last week.
The first match was Sept. 20 against Southwestern Oklahoma State University. The Bulldogs started the game with two quick goals, and all momentum seemed to be on their side. Yazmin Gomez was able to slow that momentum with her first goal for the Rangers. Southwestern would add one more goal though before the end of the period sending the Rangers into the intermission down three goals to one.
The second period was all Southwestern, as they scored three more goals, while Northwestern didn't score any goals in the second half. The Rangers would lose the game by a final score of 6 to 1.
The second match of the week the Rangers faced the Tigers of East Central University on Sept. 22. The Tigers were able to push across a quick goal to begin the match, but Northwestern was able to tie things up with a goal of their own. East Central University was able to put another goal on the board just minutes before the end of the period putting the Rangers down 2 to 1 at the half.
The second half didn't show any better results. East Central University added two more goals to their total. The Rangers, not having any luck finding the back of the net, would wind up falling to the Tigers 4 to 1.
Northwestern will be on the road for their next three games. Their first stop will be Oklahoma City to face Oklahoma Christian. Then on to Arkansas to play Harding University and Ouachita Baptist University.