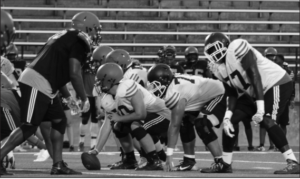 Leadership and teamwork is the theme for this year's football season. With a new defensive coordinator, and several field positions being taken over by new faces, the Rangers football team started the season with hope for an outstanding year.
One new face on the team is Isaiah Weed, a junior who transferred to Northwestern in the spring semester. Weed, having always been a quarterback from a young age, filled Northwestern graduate, Reid Miller's, position as the Ranger quarterback.
"I've been playing the quarterback position all my life, since I was seven years old," Weed said. "I'm pretty used to it. I've been playing college football at this level since I was a freshman because I played quarterback at my last school at the D2 level. But it's great, you are the field general, you control the whole team and you set the tone for every game."
The season opener game took place on August 30 in Arkadelphia, Arkansas, against the Ouachita Baptist Tigers. Unfortunately the Rangers lost the game 28-31. Although this was a loss there were improvements made in the defense to last year's average.
" Coach Ken Gordon (defensive coordinator) has been a really good coach coming in this spring," Weed said. "He is really pushing them hard so I think that has made them better as a whole group, and they really did well the second half of the game."
The Ranger's coaching staff has helped improve the game for this season, but the team just needs better execution, Weed said.
"We need to execute and show good effort," Weed said. "It is something Coach Walter talks about a lot. Throughout the game I think we just had a lot of small errors and little mistakes that were really key in the game."
To improve upon this the football team practices are intense, Weed said. They try to keep their focus on one game at a time.
Weed has his own improvements he hopes to make to help the team get better.
"In the quarterback position I'm working on my leadership skills everyday," he said. "Trying to be a leader on and off the field. On the field I have all the skills to play the game, but there are small things I need to work on. I am learning the playbook and just 100 percent mastering it."
Leadership is important to Weed just as teamwork is. Most of his goals are centered on doing things to help the entire team rather than just himself.
"Being a team player is probably the most important things when it comes to being a quarterback," he said, "because you can't play just for yourself. You have to play for the people around you and be a good teammate to everyone. Because the team looks to the quarterback so you have to set the example."
Weed's team mentality is what drove him to become a Ranger. He said he transferred because he wanted to be around a team that feels like home. Northwestern feels more like home to him than his other college did.
"I came here and the team welcomed me with open arms and I got to know everyone pretty quick," he said. "It is a great atmosphere for the football team and the coaches are really great. I love the school. I love to be a Ranger."