Volleyball undefeated in OPSU tournament

The Northwestern Oklahoma State University Lady Ranger volleyball team's season began on Friday and Saturday as the Lady Rangers traveled to Goodland, Oklahoma to face opponents in the Oklahoma Panhandle State University tournament.
The Lady Rangers finished the weekend 4-0.
The Lady Rangers faced the University Of Science and Arts of Oklahoma and Oklahoma Panhandle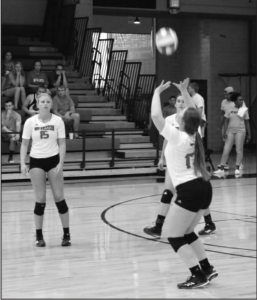 State University on Friday. The Lady Rangers swept both teams 3-0. The Lady Rangers continued their winning streak on Saturday, when they faced opponents Jarvis Christian College and Fort Lewis College. The Lady Rangers swept Jarvis Christian College 3-0, and won the match 3-1 against Fort Lewis College.
Hannah Williams had a successful weekend during the Oklahoma Panhandle State University tournament. The junior from Thornton, Colorado was a key piece for the Lady Rangers throughout the tournament.
Williams plays the 6 rotation Outside position. In the first two matches, Williams had a total of 19 kills and 2 aces. During Saturday's matches, she had a combined 17 kills, 2 aces and 3 blocks.
Williams said she thought she performed best in the match against Fort Lewis College.
"I feel I played the best in the last match against Fort Lewis because I had never played so consistently in the back row, both passing and digging," Williams said. "The goal for the Fort Lewis match was to be the most consistent in the back row and be the go-to hitter in the front."
Williams said the wins from the tournament were important for the rest of their season. She and her
teammates set a goal to go to the Great American Conference tournament and win it. "The wins this weekend were extremely important for us this weekend because it certainly proved to everyone that we are capable of winning," Williams said. "Last season definitely brought us down because we had nothing to play for, this season we want to play for each other AND our coach which is a huge motivator."
Williams and the rest of the Lady Rangers will be back in action Friday and Saturday on the road against opponents Rockhurst University and Texas A&M University.