From NAIA champion to Northwestern coach
By Docker Haub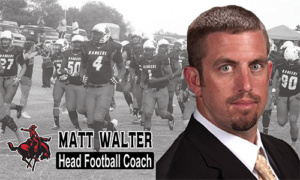 In 1999, the Northwestern Oklahoma State football team won the NAIA National Championship and was experiencing the peak of Northwestern football to date.  Little did the University know that the MVP of that game, Matt Walter, would one day return to his alma-mater to take the reigns as the head football coach.
Coach Walter has been the head coach at Northwestern for 2 seasons now with a record of 3-8 in 2015 and a record of 4-7 in 2016.  Walter was the starting fullback at Northwestern in the 90's and early 2000's where he recorded no negative rushing yards in his whole career, was given the MVP award in the national championship and was also named Honorable Mention All-American during the 2000 season.
Matt Walter was born in Oklahoma City on August 9, 1978 and adopted from a Catholic charity by his parents who then brought him to Azle, Texas, a small suburb right on the outskirts of Fort Worth, Texas.  Walter spent the first 16 years of his life in Azle until he was recruited to play football at Northwestern Oklahoma State.  Walter attended Northwestern Oklahoma State until he graduated in 2001 with a Bachelor's of science degree as well as a Master's degree in education.
Walter didn't always want to be a coach.  "I actually went to school to be a CSI," Walter said. "My degree was in Natural Sciences and I really enjoyed it.  I spent all my time in the science building with my undergrad and then when I got done playing I was doing my student teaching in Waynoka (OK), and that whole semester I found myself really missing football so I asked Coach Higgins if I could come back and GA, he hired me as a GA (Graduate Assistant) and I guess the rest is history."
After Walter received his master's, he got his first job at Louisiana Tech University in Ruston, Louisiana.  Walter spent a year at Louisiana Tech as the assistant strength and conditioning coach.  He then went on to serve as the head strength and conditioning coach at Southeastern Louisiana University in Hammond, Louisiana for a year.  "I really liked living in Hammond," Walter said, "Just the French Cajun culture, the food, and the people were great."
After Hammond, Walter moved to the state of New Mexico for his new job as the head strength and conditioning coach at New Mexico State University in Las Cruces, New Mexico.  During Walter's four years at New Mexico State, he was known as "The Punisher" by his athletes for his high intensity strength, speed and agility training. He guided them to break numerous school records in jumping, running and lifting.
Success wasn't the only thing Walter found at New Mexico State.  This is where he met his future wife, Suzanne, as well.  "I met Matt right around Christmas break in 2004 while I was the marketing coordinator for the athletic department at New Mexico State," said Suzanne, "I actually did not tie two and two together that he was "The Punisher" until someone introduced me to him as "The Punisher" in a press conference in February.  I was kind of shocked because he was such a polite and quiet guy.  I saw him again at a baseball game and I couldn't remember his name so I asked him, "What's your name again?", and he said, "You don't know who I am?  I'm going be the best thing that ever happened to you.".  He then asked me to lunch and I told him no a couple of times until he remembered my birthday and wished me a happy birthday, so I decided to give him a chance and we went out and we never really stopped from there."
Suzanne and Matt went on to get married and have two boys, Rowan and Torin.  "He is quite possibly the opposite of "The Punisher" at home," Suzanne said, "he is very passive, very affectionate, very calm, the best dad you'll ever get to know.  He gets a very close second to my dad."  Suzanne praises the fact that Coach always puts his family first and foremost and puts his players second.  "He really loves and takes care of his players," Mrs. Walter said, "he's such a giving person, he would give you the shirt off his back."
After Coach Walter's days as "The Punisher" at New Mexico State, he went on to spend 6 years at Emporia State University in Emporia, Kansas, where he served as the strength and running backs coach, offensive line coach and offensive coordinator.  As an offensive coordinator, Walter played a major role in the turnaround of the football program's success at Emporia.  ESU went 2-9 during Walter's first season but they steadily had more success.  In 2012, Emporia finished with a record of 10-2 and in 2013, Emporia went 9-2 while making their first Division II playoff appearance.  Walter's offense ranked 15th in the nation in scoring offense and 20th in the nation in total offense during the 2013 season.
During his time at Emporia, Walter made connections with people that he would continue to have after he decided to leave.  A couple of those connections include Ben Mckaig, the offensive line coach here at Northwestern, and TJ Andrade, the equipment manager and signal coordinator here at Northwestern.
Ben Mckaig first met Coach Walter as a player at Emporia State where he played as an offensive lineman for Coach Walter.  "Seeing him in weights everyday as well as in the meeting rooms when he was my position coach, I got to know him pretty well," Mckaig said.  Mckaig and Walter's relationship at Emporia played a big role in them ending up working together.  "We just kept in touch, and when he got the job I called him up to congratulate him and I let him know that if he had any openings I would definitely be interested," Mckaig said, "He talked to me about the requirements for the job and I just kept working.  When he finally had an opening, he called me up and I pretty much said yes on the spot."
Mckaig described Coach as a "driven" man.  "He's always on the move, always on the go, always working on the next thing, always working to get better," Mckaig said, "I think you can see that in the way that he coaches, he just wants your best.  You don't have to be perfect, he just wants you to give your best and that's the only thing he's going to accept."
TJ Andrade first met Coach Walter as a student assistant coach at Emporia where he spent a lot of time with Walter and the rest of the coaching staff.  Andrade learned a lot of things from Walter during his time at Emporia as well as his time here at Northwestern.  "The biggest thing I've learned from Coach Walter is to always keep pushing," Andrade said, "he pushes us coaches just as hard he does the players and his drive to succeed will always stick with me."
Andrade described Walter as a man of "variety".  "He has such a variety of traits about him," Andrade said, "From his one-line humor, to his work ethic, and to the way he treats his family, he just has so many different qualities that make him so much different than anyone else."
Off of the field, Walter's favorite thing to do is spend time with his family.  But he also finds enjoyment in watching all sports as well as fishing.  "I've always loved to fish," Walter said, "Unfortunately, I don't get a lot of time to do it as the head coach, but it's something I really enjoy and I would love to take my boys to do."
Even though football takes up a lot of Walter's time, his career is something he is very passionate about.  He loves the team concept of the sport of football and takes a lot of pride when young men can take the ideas he has designed and then take them to the field and execute them.  "I can design something on a board and it's always going to look good, cause you're always going to find a weakness in the defense or the offense," Walter said, "but when you translate that to 11 guys on the field, and they all get the picture that you have in your mind, and then execute it the right way, it's a very satisfying feeling.  There is no other sport as complex and demanding as football because there are so many moving parts.  It's just so intricate.  Football is so satisfying to me because you are literally directing a major motion picture, and it takes every guy. Everyone has to be on the same page."
The way his staff and players remember Walter is something that means a lot to him as well.  He wants to be remembered as someone who was fair, who was honest, and someone who made playing the game fun.  "I want my players to know that I love them and that I'll do anything for them, but at the same time it's my job to be hard on them and try to help mold them into becoming the best man they can be because that's the most important thing," Walter said.
After leaving Emporia State, Walter decided to take the head coaching job back at his alma-mater, Northwestern Oklahoma State.  Walter takes a lot of pride in Northwestern and calling Alva his home.  "It's a dream come true," Walter said, "the success we had when I played here and being on some of those championship teams, it was really special to me what we built here.  When I got the opportunity to come back and be the head coach, I really jumped at it and I've had the most fun I've ever had coaching.  And part of it is because it is Alva and it's Northwestern and it means that much to me because even though you're not from here and it's not your home, it becomes your home, and Alva became my home ever since I was a student here.  Truly a dream come true."